02 Oct

"Take Back Our Water" Rally Attracts 200+ Attendees

They are farmers from up and down the Central Valley, local government officials and water groups, all joining forces to protest the water cuts at the "Take Back Our Water Rally" in Mendota.

The grassroots effort was initiated by farming interests from across the valley who want to send a message to Sacramento and Washington D.C. that their voices must be heard.

Over 200 people turned out to Rojas-Pierce Park, and listened to more than a dozen speakers, who called for accountability in environmental management of water at the state level and said that people come before fish.

One speaker, Kole Upton, from the Chowchilla Water District, and "Families Protecting the Valley," said that we are in what he called an all out "water war and that people need to be Valleycrats before they are Democrats or Republicans.

There was talk of this situation being like "watercide" as the government tries to reduce the number of farms and ultimately the population in California – some attendees believe that this is a calculated effort to fallow land and induce people to move out of state.

Westside Elementary School Principal Baldero Hernandez said whether its a salmon or a spotted owl – he wants someone to come forward and tell him why that's more important than a human life.

Another attendee says his farming family is looking for work because of the loss of land and jobs that comes with the reduction of available water.

The California Water for Food and People Movement, My Job Depends on Ag and Gar Tootelian hosted the rally in collaboration with Assemblyman Jim Patterson.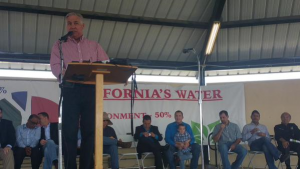 Patterson showed the audience a letter that farmers and others can sign to petition Governor Brown requesting a special session to address the water situation.
Patterson says they hope that they are heard and if not – then they will rally again in Sacramento, this coming January.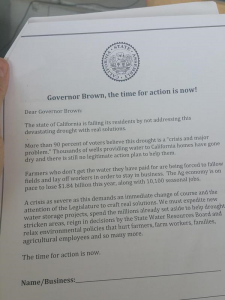 Source: http://www.kmjnow.com/2015/10/02/take-back-our-water-rally-attracts-200-attendees/